ECS held an introductory workshop for the CIPS professional certification
The Elite Training Center held an introductory workshop on the professional certificate CIPS on the Zoom platform on Wednesday evening, 6-7-2022 with trainer Abdullah Al-Tasan and trainer Abdul Nabi Baqer, and the interaction with the trainees was good, excellent, and rich in various questions and answers.
Ceremony of the end of the training program for the Second batch To obtain a professional certificate
CIPS Level 3
The Elite Training Center held a training ceremony for the CIPS professional certificate for the second batch, in the presence of the CEO, Mr. Abdul Rahman Al-Dhalan, and the trainer advisor, Abdullah Al-Tasan, at the Executives Hotel on Thursday, 23/60/2022.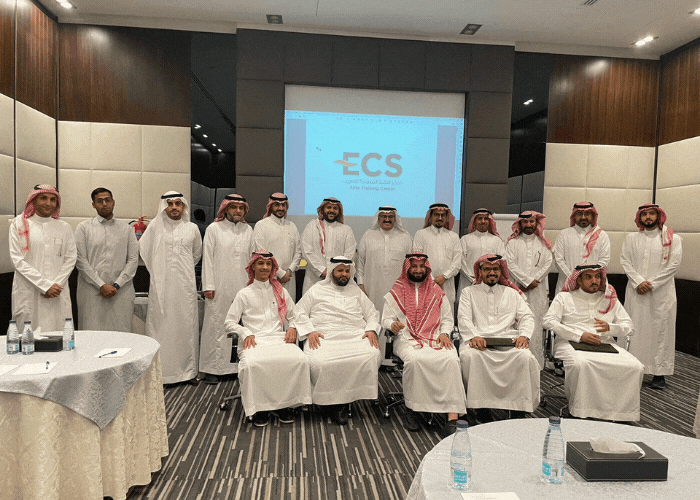 ECS held an attendance course at its headquarters entitled Total Quality Management and Institutional Development
An in attendance course was held at the center's headquarters entitled Total Quality Management and Institutional Development with the able trainer Mr.: Nabil Al-Dosari with excellent attendance from several companies, we wish everyone continued success
ECS Center received a shield from the Supply Chain and Procurement Association
With the grace of God, the Elite Training Center received a shield presented by the Association of Supply Chains and Procurement, the strategic partner of the Center, for the partnership in the training sector!
We wish you a fruitful and effective partnership
ECS Obtaining an E-Learning License
ECS obtained the license granted to it by the National Center for E-Learning NEC, which was granted to it based on the training quality standards that the Center achieved in accordance with the work system and the harmonization standards of training facilities in the Kingdom of Saudi Arabia.
Partnership between ESC and CIPS
ECS conducted a meeting with CIPS management in Dubai during a business trip.
The meeting covered future businesses since ECS is now an official approved centre for CIPS.
ECS
Is an Approved Center for training and testing by CIPS
The Elite Center has obtained the certificate of an accredited training and testing center from the Chartered Institute of Procurement and Supply, after effort and perseverance to achieve the institute's global standards
ECS Agreement with Hawkamah Training Institute
A strategic agreement was signed between ECS and the Hawkamah Training Institute in Riyadh
ECS meeting with a representative of the Institute of Supply Chain Management IoSCM
Part of the meeting of the Distinguished Elite Department for Consulting and Training in the presence of Mr. Abdul Rahman Al Dhalan, CEO of the Distinguished Elite, and Advisor Mr. Abdullah Al-Tasan and Mr. Abdul Majeed Marzouk in a meeting with Mr. Alex Burg in Riyadh on March 21, 2022
The Grand Opening for Kurita & Aqua chemicals plant in Dammam
Part of the presence of Mr. Abdul Rahman Al Dhalan, CEO of ECS, at the grand opening of the Coretta and Aqua Chemicals Factory in Dammam
ECS
Is an Approved Center for training by IoSCM
The Elite Center obtained the certificate of a global accredited training center from the Institute of Supply Chain Management ( IoSCM) after effort and perseverance to achieve the standards of the Institute
Supply Chain and Procurement Association meeting held in Riyadh in 2022
Part of the participation of the CEO of the Distinguished Elite for Consulting and Training and the Vice President of the Supply Chain and Procurement Association for the recruitment of national cadres, His Excellency Mr. Abdul Rahman Al-Dhalan, in the association's meeting held in Riyadh in 2022